Number of Dogs or Cats Permitted
No owner shall possess more than two (2) dogs and two (2) cats on the same property within the City of Dauphin limits.
Licenses are due January 1st and expire December 31st each year.
When applying for a license, the applicant must provide the following information:
• Name & address of owner;
• Description & Breed of the dog or cat;
• Certificate from Veterinarian confirming animal has been spayed or neutered, if applicable;
• Proof that the animal has been vaccinated against rabies within two (2) years of the date of application for the license.
The license fees are as follows:
$30 for every spayed or neutered dog/cat and
$45 for every other dog/cat.
For more information please download the Animal Control Bylaw 05-2020 and the Animal Control Brochure or contact the Animal Control Officer.
Junior Helper
Our Animal Control Officer is offering some assistance to those who have kids that may not be fulfilling their chores at home when it comes to their pets.
Parents can print off the chart below and customize the duties to your household and reward your kids with their own Animal Junior Helper License!
To contact the animal control officer at anytime, call 204-648-3593.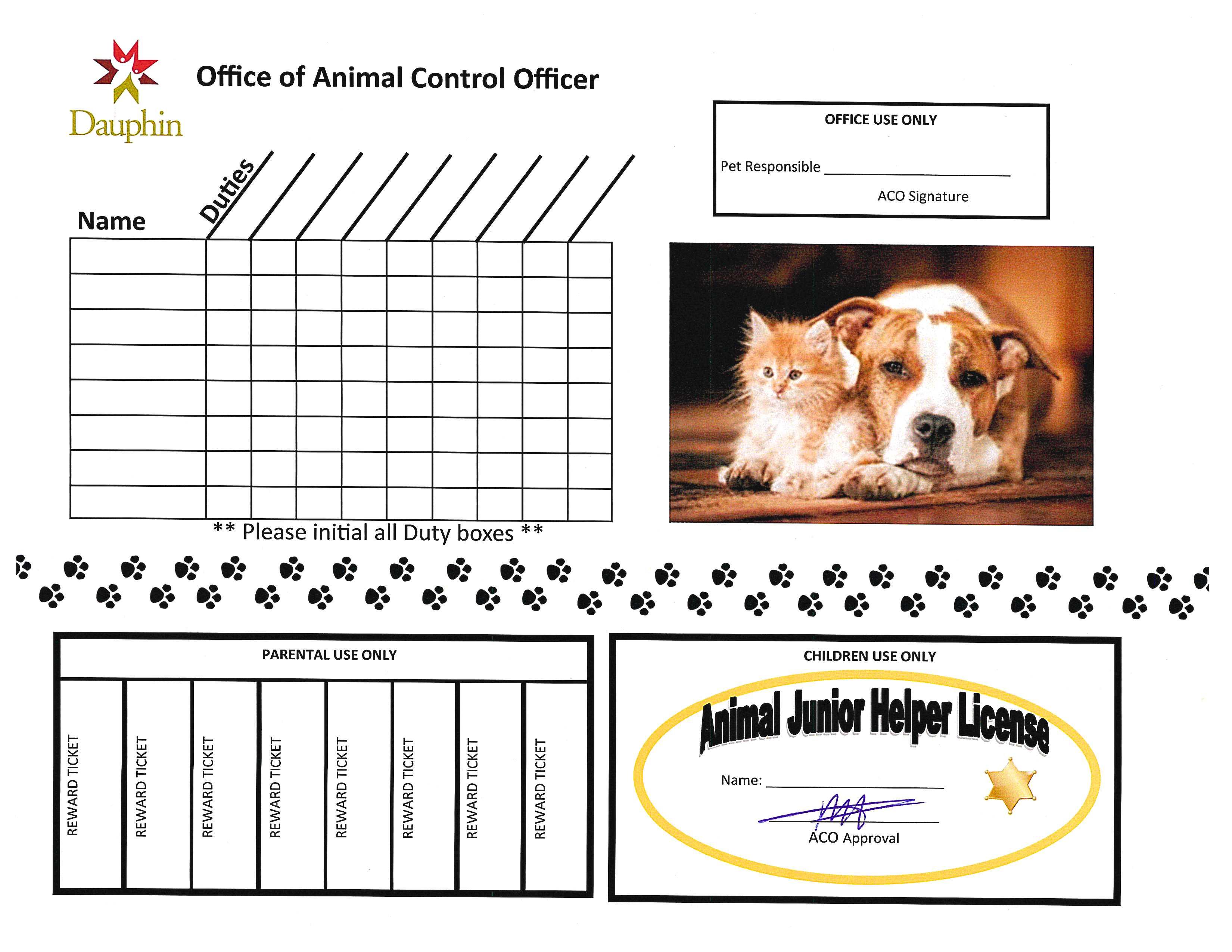 Download a printable PDF of the Junior Helper Chart
Animal Control
Contact: Todd Tarrant
Job Title: Animal Control Officer
Phone: 204-648-3593
Email: animalcontrol@mts.net
Animal Care Line
Ethically sound treatment of animals is a priority of citizens and society as a whole. If you suspect or witness any of the following, please report to the Animal Care Line at 1-888-945-8001.
not providing animals with shelter, food, water

not providing critical medical care to an animal when it is suffering or injured

keeping animals in unsanitary conditions

an abandoned animal